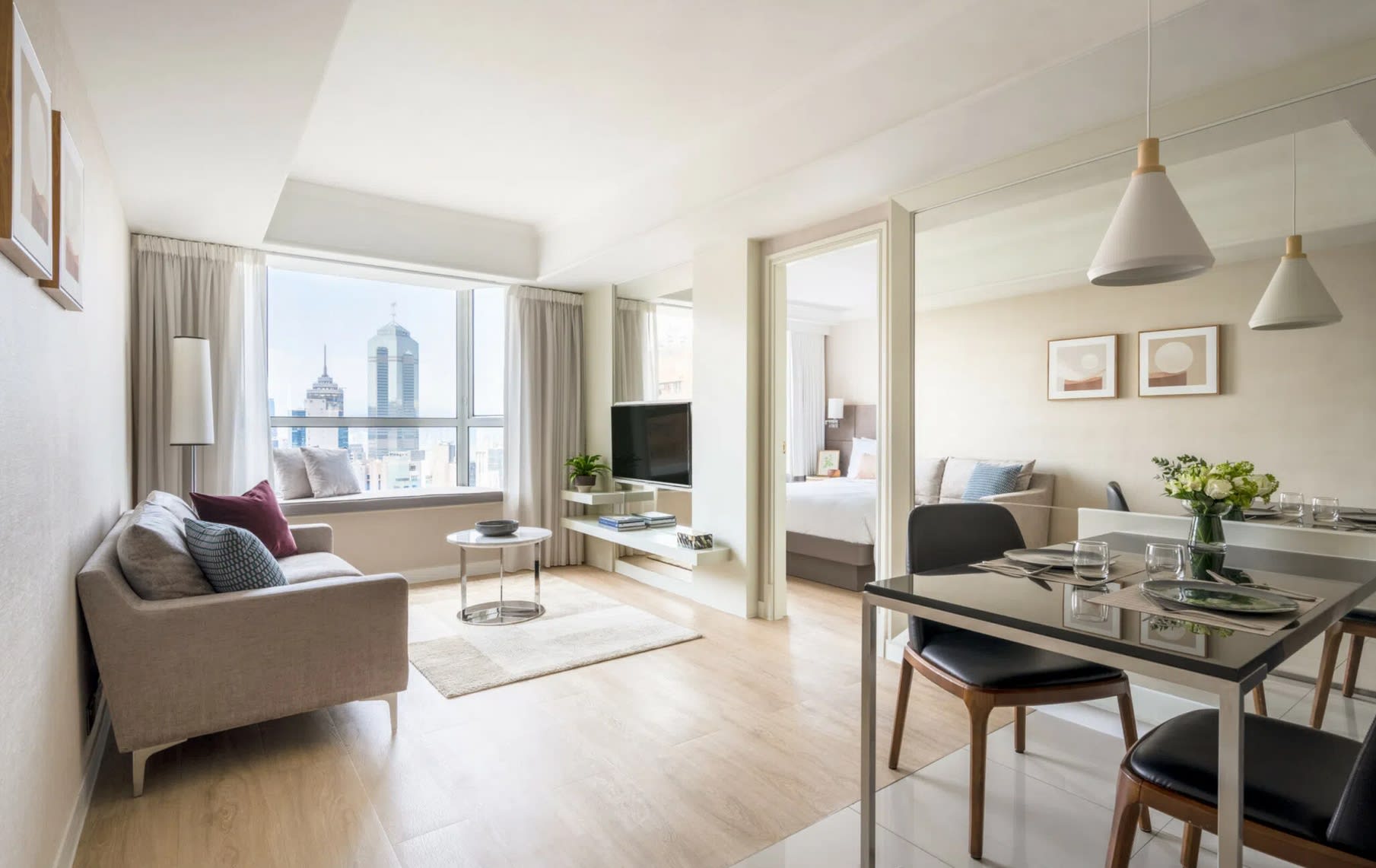 Two MacDonnell Road 麥當勞道貳號
2 MacDonnell Road, Mid-levels, Hong Kong
---
Create your account to discover deals from your credit cards
---
Deals from Other Credit Cards (
1

)
Special Offers
Guaranteed upgrade to next room category at reservation stage and booking must be made directly with hotel official website to enjoy the offer and presenting the BOC credit card during check in for payment

1. Rate is subject to 10% service charge.
2. Booking must be made directly with hotel official website to enjoy the offer.
3. Please present a valid BOC credit card to the hotel upon check-in for payment to enjoy the offer.
4. Offer cannot be used in conjunction with any other promotions.
5. Booking must be guaranteed by credit card at time of booking.
6. All cancellatios and changes must be received by 12:00 noon Hong Kong time at least 7 days prior to the expected day of arrival, or a penalty equal to one night's room rate plus service fee, will be charged to the booking credit card.
7. In case of dispute, Two MacDonnell Road reserves the right to make a final decision.
2023 Year Round Offer General Terms & Conditions:
1. Unless otherwise specified, all offers are applicable to:
i. BOC Credit Card, BOC Dual Currency Credit Card (including Co-branded Card, but not applicable to Private Label Card, Purchasing Card and Intown Card) bearing the BOCHK logo; and BOC ATM Card bearing the BOCHK logo and UnionPay logo issued by Bank of China (Hong Kong) Limited ("BOCHK") (the "Eligible Credit Card and/or BOC ATM Card"), and/or
ii. Mobile payment, which refers to contactless payment made with Eligible Credit Card and/or BOC ATM Card that provisioned on a designated mobile phone or device (includes Apple Pay, Google Pay, Samsung Pay and Huawei Pay) ("Mobile Payment"). Apple Pay only applies to Eligible Credit Card (not applicable to BOC Commercial Card); Google Pay and Samsung Pay apply only to Eligible Credit Card (not applicable to BOC Commercial Card and BOC Dual Currency Credit Card) and Huawei Pay applies only to eligible BOC Dual Currency Credit Card, and/or
iii. BoC Pay, which refers to QR Code payments made with the BoC Pay mobile app. Customers must successfully bind the BoC Pay mobile app with eligible BOC Dual Currency Credit Card and/or Smart Account and/or register the Payment Account ("BoC Pay").
2. To enjoy the offers, customers must settle payments, and/or settle payments via mobile payment, with the "Eligible Credit Card and/or BOC ATM Card", and/or settle payments via BoC Pay.
3. Unless otherwise specified, all offers are valid from 1 January 2023 until 31 December 2023 (both dates inclusive, based on transaction date).
4. Unless otherwise specified, offers are available on site only.
5. Unless otherwise specified, BOC ATM Card only applies to specific Merchants. For details, please check with Merchants.
6. Customers can enjoy hotel accommodation privilege or beauty/health/hair care/car service offers by appointment only. Offers are subject to prevailing circumstances and availability of the relevant facility/service.
7. Unless otherwise specified, offers cannot be used in conjunction with any other discounts, discounted/fixed-price items, ticket sales events, cash coupons, gift vouchers, VIP Card or membership reward schemes, and are not applicable to sales or any other promotional offers. Please check with the respective merchants for details.
8. Offers cannot be exchanged for cash or other products and are not transferable.
9. Apart from the terms and conditions as listed in this promotion material, offers are subject to specific terms and conditions of the respective merchants. For details, please refer to the individual offer and promotion or check with respective merchants.
10. Free Gifts, samples and trial services are in limited supply and available while stocks last. Each customer can only enjoy the same offer once. Please contact the respective merchants for details.
11. Any change to the offer terms will be subject to the prevailing circumstances at the time of patronage.
12. All offers are subject to change without prior notice. BOC Credit Card (International) Ltd (the "Company") and/or BOCHK accept no responsibility for any such change and will not notify customers separately of any such change.
13. Upon closure of a participating merchant, the relevant offer(s) shall cease immediately.
14. The Company is not the service provider of any participating merchants, any enquires or disputes should be directed to the relevant service providers. The Company and/or BOCHK accept no liability for and shall not be responsible for the quality of or any other matters relating to the food, products and services provided by the participating merchants. The participating merchants are solely responsible for all obligations and liabilities relating to the food, products and services.
15. BOCHK and/or The Company and/or the participating merchants each reserves its right to suspend, change, or terminate the offers or amend the offer terms and conditions at its sole discretion without prior notice.
16. No person other than the cardholders, the participating merchants and the Company and BOCHK will have any right under the Contracts (Rights of Third Parties) Ordinance to enforce or enjoy the benefit of any of the provisions of these terms and conditions.
17. These terms and conditions shall be governed by and construed in accordance with the laws of the Hong Kong Special Administrative Region.
18. In case of dispute, the Company, the participating merchants and/or BOCHK reserve the right for the final decision on all matters.
19. The above products, services and offers are subject to relevant terms and conditions, please refer to relevant promotion items or enquire with the Company and/or BOCHK.
20. Should there be any discrepancy or inconsistency between the English and the Chinese versions of these terms and conditions, the Chinese version shall prevail.

General Terms & Conditions of Mobile Payment and BoC Pay:
1. To enjoy the relevant offer, cardholder needs to present the relevant mobile application with the added "Eligible Credit Card and/or BOC ATM Card (if applicable)" and/or Smart Account and/or Payment Account to the cashier before payment and settle the payment successfully.
2. Offers are available at all branches of participating merchants in Hong Kong, but not applicable to online transactions (Unless otherwise specified).
3. Any unposted/ cancelled/ refunded/ falsified transactions are also excluded. Cash Voucher/ Cash Discount will be cancelled or returned along with relevant transactions.
4. Unless otherwise specified, the Cash Voucher will be given upon the completion of the transaction immediately and cannot be accumulated or deferred for future use. Each cardholder is entitled to enjoy the Mobile Payment and BoC Pay Merchant Offers once each day.
5. All the matters and disputes will be subject to the final decision of the Company and the participating merchants. In case of any disputes, the participating merchants may request cardholder to present Applicable Credit Card / BOC Card (if applicable) in physical form for verification.
6. For more details about BoC Pay, please refer to www.bochk.com/en/more/ebanking/bocpay.html.
7. Apple Pay is a trademark of Apple Inc., registered in the U.S. and other countries/regions. For compatible devices and more details about Apple Pay, please refer to www.apple.com/hk/apple-pay. Google Pay works with NFC capable Android™ devices running Android Lollipop 5.0 or higher. Samsung Pay is a trademark of Samsung Electronics Co., Ltd. Samsung Pay only supports NFC payment. For compatible devices and more details about Samsung Pay, please refer to www.samsung.com/hk/samsungpay/#samsung-pay. Huawei Pay is a trademark of Huawei Technologies Co., Ltd and is submitted for trademark registration in China and other countries/regions. For compatible devices and more details about Huawei Pay, please visit the Huawei Pay Hong Kong website. Customers are responsible for the data charges of using and/or downloading BOCHK Mobile Application imposed by their service providers.
8. Customers are responsible for the data charges of using and/or downloading BOCHK Mobile Application imposed by their service providers.
9. Please download BOCHK Mobile Application from official application stores or BOCHK website, and ensure the search wording is correct.
10. By using BOCHK Mobile Application, the viewer agrees to be bound by the content of this disclaimer as it may be amended by BOCHK from time to time and posted to on BOCHK Mobile Application.
11. Mobile Payment Applications are the third parties' Mobile Applications. Mobile Applications are subject to such service providers' terms and conditions. BOCHK is not the service provider of the Mobile Applications. If customers have any enquiries or complaints to them, please directly contact the service providers. BOCHK gives no guarantee to the Mobile Applications of the service providers, or does not accept any liability arising in conjunction with the use of the Mobile Applications or the services provided by the service providers.
12. BOCHK has not reviewed or verified the information in the Third Party Mobile Applications or any materials, products or services or privacy practices posted or offered therein or thereat and shall not be in any circumstances liable for any loss (whether in negligence or otherwise) whatsoever or howsoever that you may sustain arising from the use of any information, materials, products or services or privacy practices posted or offered at the Third Party Mobile Applications. BOCHK does not or does not mean to endorse or recommend any information, materials, products or services posted or offered at the Third Party Mobile Applications. Nor shall BOCHK be liable for any inaccuracy or failure of any information, materials, products or services posted or offered at the Third Party Mobile Applications. Please read the terms and conditions and the relevant disclaimer(s) and privacy policy that may be contained in the Third Party Mobile Applications.

General Terms & Conditions on Dining Offers:
1. Unless otherwise specified, offers are applicable to dine-in only. All prices are subject to a 10% service charge (based on original price) plus charges for tea and condiments. Advance booking may be required for specific merchants.
2. Unless otherwise specified, offers are not applicable on chef promotions, special menus, catering services, room services, wine dinners, banquets, wedding, conference, private party and VIP room, special promotion events and other food and beverage in the restaurants (i.e. tobacco, cigarettes etc).
3. Offers may not be available during public holidays and festive seasons (Eve and Festive Day) such as Chinese New Year, Valentine's Day, Easter Holidays, Mother's Day, Father's Day, Mid-Autumn, National Day, Winter Solstice, Christmas Eve, Christmas Day, New Year's Eve and New Year's Day or firework display nights or other blackout dates as may be designated from time to time by the participating merchants. Please contact the respective merchants for details.
4. The above products, services and offers are bound by the relevant terms and conditions, please refer to the related marketing materials or check with the Merchant or BOCHK and/or The Company for details.
5. No person other than the customer, BOCHK and/or the Card Company and the Merchant will have any rights under the Contracts (Rights of Third Parties) Ordinance to enforce or enjoy the benefits of any of the provisions of these terms and conditions.
6. BOCHK and/or the Card Company is not the supplier of the Merchant. Relevant products are provided by the Merchant. Any enquiries or disputes relating to the goods and services should be directed to the Merchant. BOCHK and/or the Card Company accept no liability for the quality of or any other matters relating to the goods, products and services provided by the Merchant. The Merchant and/or the providers of the services are solely responsible for all obligations and liabilities.
7. BOCHK, the Company and the Merchant reserve the right to change, suspend or cancel this Promotion or revise its terms and conditions at their discretion.
8. In case of any disputes, BOCHK, the Company and the Merchant reserve the right of final decision on all matters and disputes.
9. Should there be any discrepancy or inconsistency between the English and the Chinese versions of these terms and conditions, the Chinese version shall prevail.
BOC Dual Currency Diamond Card
BOC Dual Currency Platinum Card
BOC Wealth Management Visa Infinite Card
BOC Private Card
BOC UnionPay Dual Currency Diamond Card
BOC Chill Card
BOC Visa Infinite Card
BOC World Mastercard
BOC Travel Rewards Visa Signature Card
BOC Enrich Banking World Mastercard
BOC i-card
BOC i-card (Virtual Card)
BOC UnionPay Dual Currency Platinum Card
BOC Visa Infinite Business Card
BOC Visa Business Platinum Card
BOC Visa Platinum Card
BOC Mastercard Platinum Card
BOC UPI Dual Currency Commercial Platinum Card
BOC CUP E-Cantonfair Dual Currency Commercial Card
BOC Taobao World Mastercard
BOC Hong Kong Airlines Visa Signature Card
BOC SaSa Dual Currency Credit Card
BOC Hong Kong Airlines Visa Platinum Card
BOC SOGO Visa Platinum Card
BOC SOGO Visa Signature Card
BOC CMHK Dual Currency Diamond Card
BOC CEA Dual Currency Credit Card
BOC GOOD DAY Visa Platinum Card
BOC GOOD DAY UnionPay Dual Currency Platinum Card
BOC Henderson Club Visa Platinum Card
BOC Henderson Club Visa Signature Card
BOC Hospital Authority World MasterCard
BOC Esso World Mastercard
BOC HKUST Visa Platinum Card
BOC Shue Yan University Platinum Visa Card
BOC Hospital Authority UnionPay Dual Currency Platinum Card
BOC HKUST UnionPay Dual Currency Platinum Card
BOC HKICPA Visa Platinum Card
BOC HKMU Dual Currency Platinum Card
BOC Sino Visa Platinum Card
BOC HKICPA UnionPay Dual Currency Platinum Card
BOC Tung Wah Group of Hospitals Visa Platinum Card
BOC HKGCC Visa Platinum Card
BOC HKCEA Dual Currency Platinum Card
GBA Youth Card
BOC "HK GO" Credit Card
BOC Cheers Visa Infinite Card
BOC Cheers Visa Signature Card