krip is proud to be the recipient of both the Award of the Year as well as the Fintech Grand Award at the Hong Kong ICT Awards 2023! 🏆
The Hong Kong ICT Awards, organized by The Office Of The Government Chief Information Officer, aims to recognize and promote outstanding ICT (Information and Communications Technologies) inventions and applications, thereby encouraging innovation and excellence among Hong Kong's ICT talent and enterprises in their pursuit of creative solutions to meet business and social needs. The awards also represent the commitment that the Hong Kong government, industry leaders and ecosystem stakeholders have put into local fintech and other areas of innovation. 
The ICT Awards consists of a total of 8 categories, including:
| | |
| --- | --- |
| Award Category | Winner |
| Digital Entertainment Grand Award | Quantum Matrix Limited |
| Fintech Grand Award | krip Limited |
| ICT Startup Grand Award | LaSense Technology Limited |
| Smart Business Grand Award | Optix Solution Limited / MTR Corporation Limited |
| Smart Living Grand Award | Pamela Youde Netherside Eastern Hospital |
| Smart Mobility Grand Award | TriTerra Technology limited |
| Smart People Grand Award | Cognitact Limited |
| Student Innovation Grand Award | The Hong Kong Polytechnic University |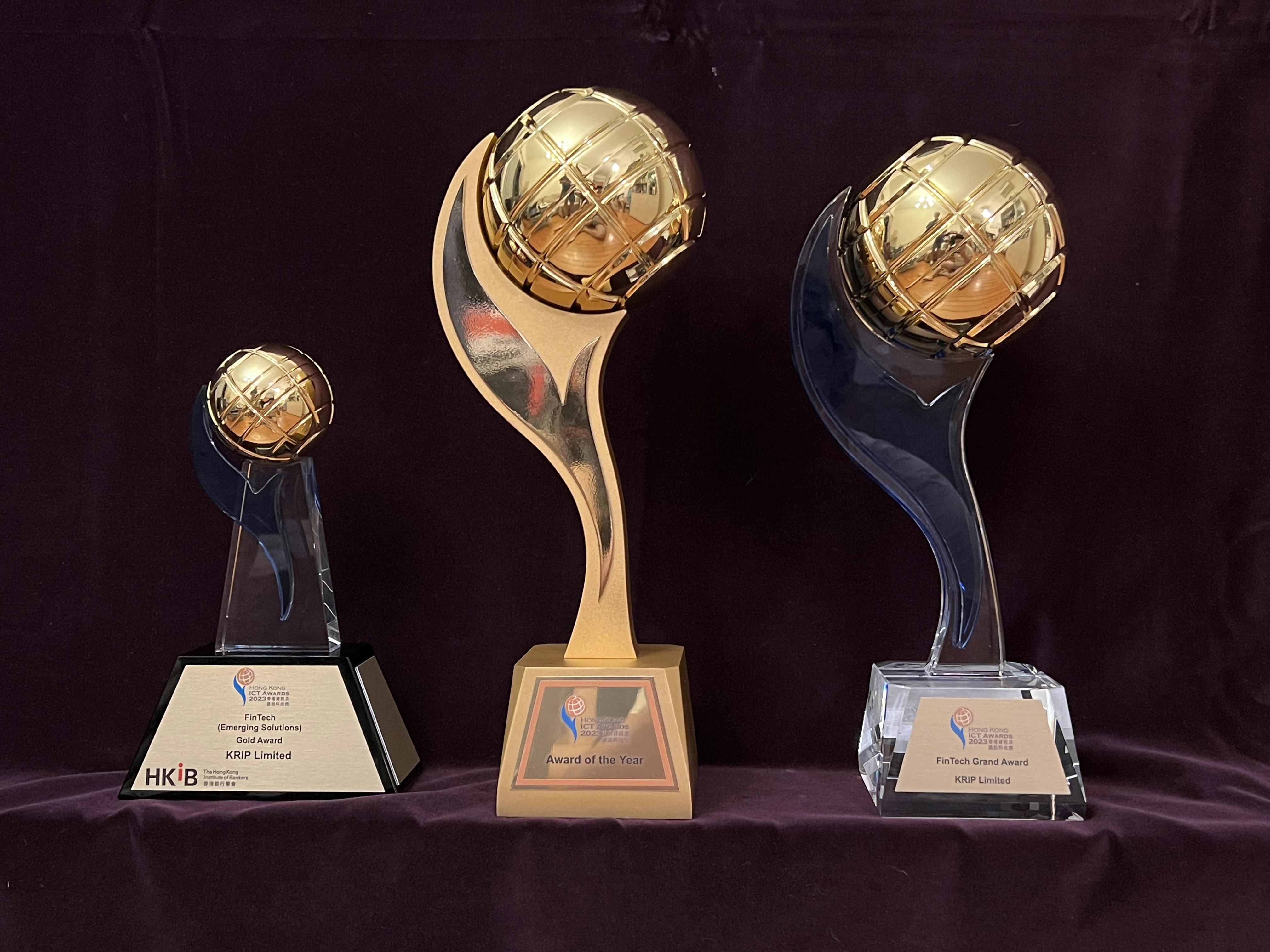 This year krip successfully won not only the Gold and Grand Awards among Fintech companies, but also the overall Award of the Year beating participants from every other category! This marks the very first time that a Fintech company has gained such recognition since the founding of the ICT Awards – a testament to krip's innovation not only as a comprehensive credit card deals application, but also as a real business solution for credit card deals marketing.
We would like to express our heartfelt gratitude to our customers, partners and stakeholders who have placed their trust in krip and supported us throughout this incredible journey. This achievement is also made possible thanks to the support of Cyberport Hong Kong for nurturing us since our early days and The Hong Kong Institute of Bankers including the esteemed panel of judges for their support and recognition throughout the ICT Awards selection process. We will take this opportunity to improve the krip platform further, and continue delivering the best credit card deals discovery experience in Asia.
For full press release, please visit the Hong Kong Government website:
#ICTAwards2023 #DigitalTransformation #Innovation #Technology #FintechStartup #CreditCard #Payments #Deals #HongKongBusiness #HKFTW2023 #Banking #DigitalInnovation