(中文版請往下閱)
HONG KONG – May 24, 2022
krip, a local fintech startup and Hong Kong Cyberport incubatee, today launched a personalized, comprehensive and centralized credit card deals and offers platform that empowers Hong Kong consumers to spend smarter and to get the most out of their cards.
krip's intuitive user interface makes deals and offers more visible and easily searchable, allowing people to discover over 6,000 deals from 3,000 merchants covering over 480 credit and debit cards. Consumers on the go using the krip HK mobile app can discover all the great deals nearby in real-time across seven major categories, including dining, fashion & accessories, beauty & wellness, entertainment & lifestyle, home living, travel and healthcare.
The krip HK app is free for consumers. Anyone can download the iOS or Android app to start discovering credit card deals and offers by exploring merchant categories, searching for specific stores or restaurant names, or browsing nearby shops in the district. For a more personalized experience, consumers can register an account and select their card(s) by tapping on the cards images to set up their personal profiles. This will allow consumers to discover the relevant deals
and offers applicable to their own cards, leading to an easier, faster and more personalized experience.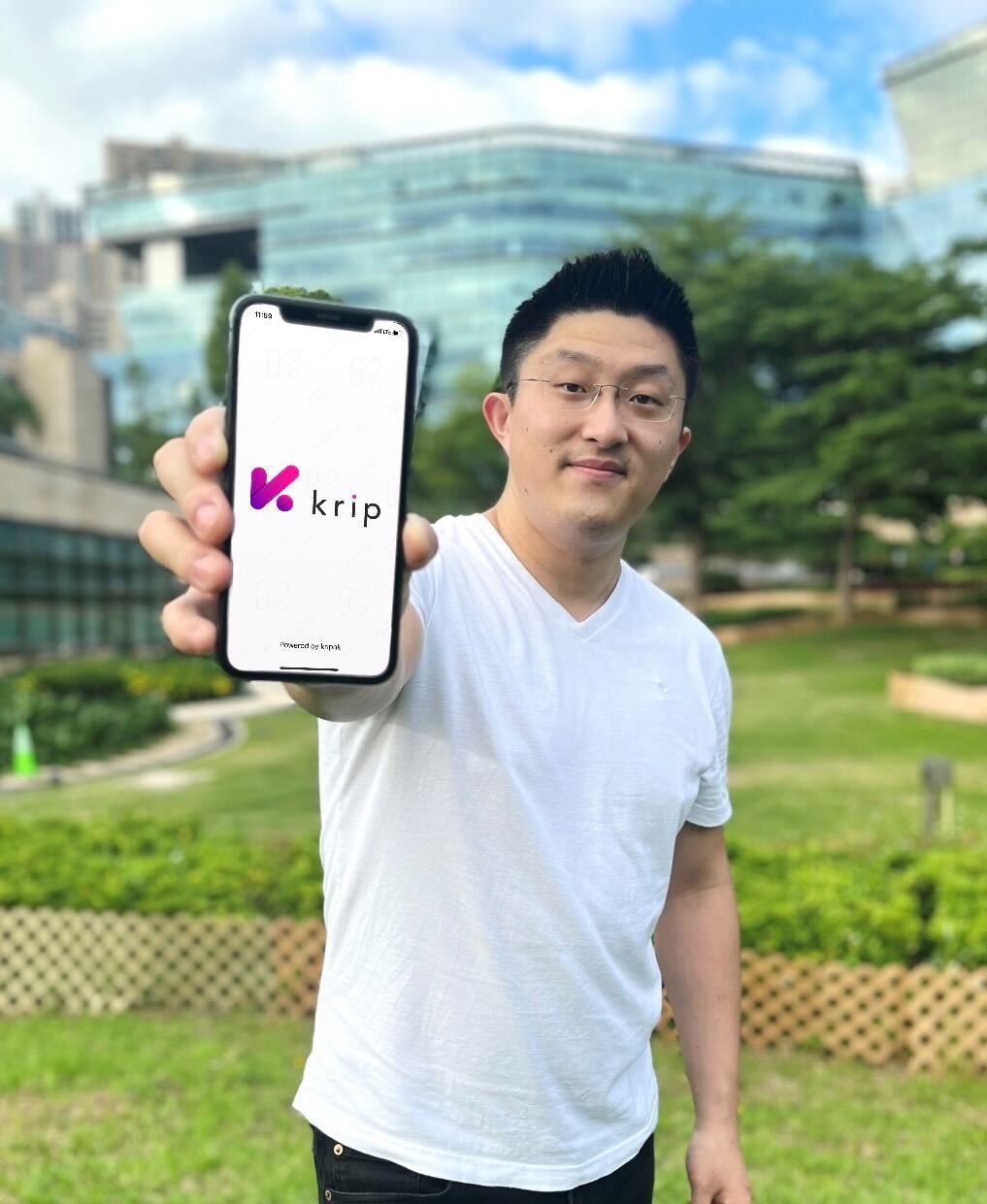 David B. Wang, Founder of krip, said: "Through a personal experience, I discovered that many deals and offers are left to chance, and most cardholders don't even know they are missing out. This meant that there was a huge gap in Hong Kong's credit card market, creating a whole layer of deals and offers available to cardholders that have remained difficult to discover. It was clear that consumers would benefit significantly from an intuitive and centralized platform where they could easily discover the deals and offers available to them and spend smarter to maximize the benefits they are entitled to. We are extremely excited to introduce krip to Hong Kong consumers so that they can truly discover the world of credit card deals and offers to its fullest and no longer have to leave money on the table when paying with credit cards."
With its mission to empower consumers to spend smarter with innovative technology and information transparency, krip aims to revolutionize deals marketing by facilitating information exchange across all three parties — consumers, merchants and financial institutions — through open API. By leveraging open API, krip has built a comprehensive deals data ecosystem that harnesses artificial intelligence to uncover and analyze consumer spending patterns, preferences and trends through the platform.
From shopping malls and retail outlets, to restaurant reservation platforms and e-commerce portals, businesses can take advantage of open API to access krip's comprehensive deals database, and drive their business with thousands of attractive and personalized deals. Merchants can better understand their customers to further personalize deals and offers, while financial institutions can develop more effective targeted marketing strategies to increase card usage and loyalty.
"FinTech has been integrated into our everyday life, bringing instant benefits for the general public," said Alice So, Head of Entrepreneurship at Hong Kong Cyberport. "As a major start-up incubator and the largest FinTech community in Hong Kong, Cyberport is delighted to see our incubatee krip successfully launch this innovative and personalised platform. The platform can help consumers spend smarter and, at the same time, can boost the economy by further stimulating their desire to consume, especially as the pandemic situation is stabilizing, and the retail and food & beverage sectors are gradually recovering. Congratulations to the team at krip on a successful launch."
金融科技初創 krip 發佈香港首個個人化信用卡優惠平台 協助港人更精明消費
krip 全面、綜合的優惠數據庫讓消費者發掘超過 6,000 個由 480 張信用卡及扣賬卡所提供的優惠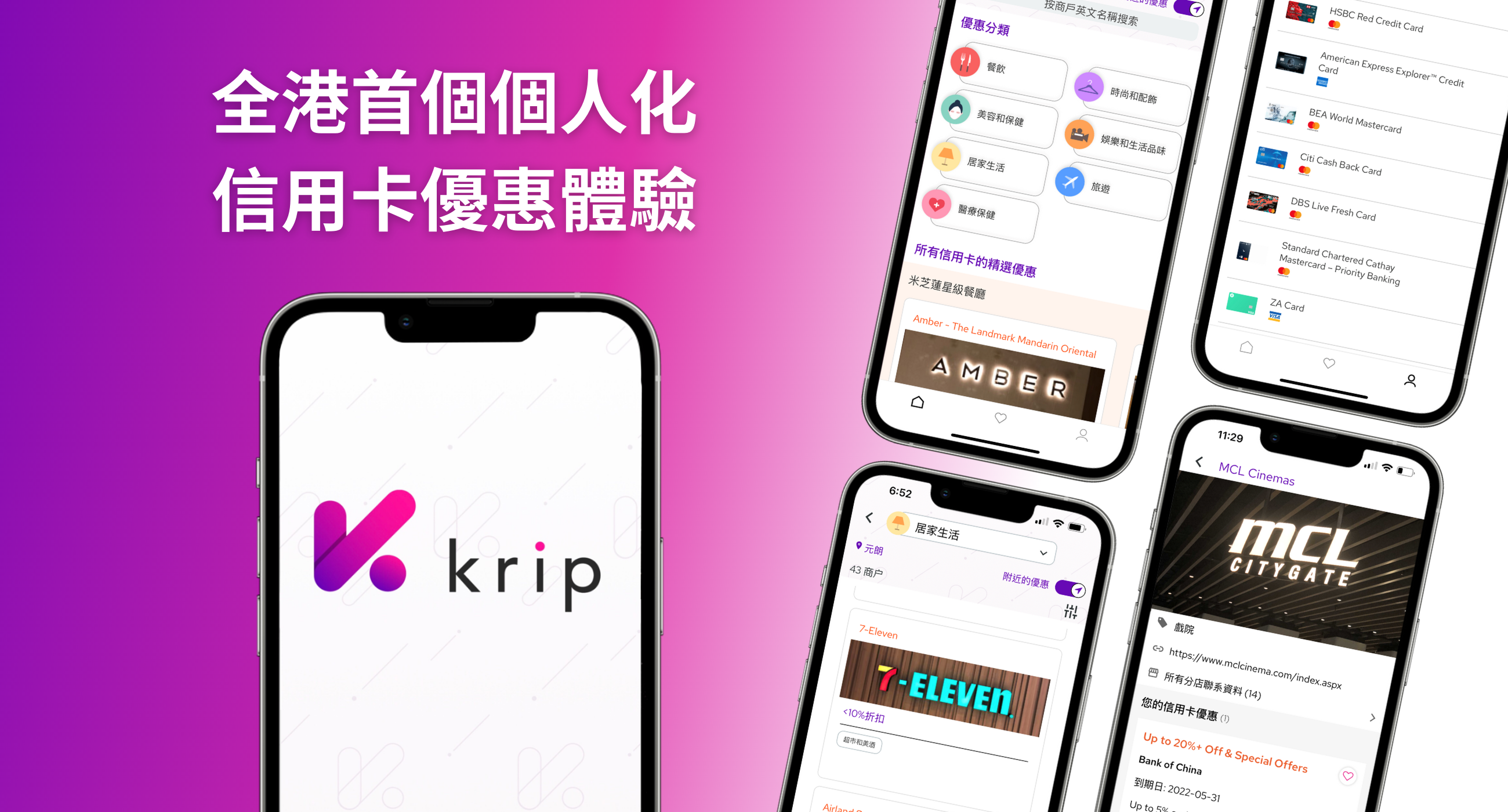 香港,2022 年 5 月 24 日 – 香港金融科技初創企業、數碼港培育初創 krip 今日發佈香港首個個人 化、全面和綜合的信用卡優惠平台,協助港人更精明消費,盡享應有的信用卡及扣賬卡優惠。 krip 平台簡單直接的用戶界面既清晰地呈現優惠資訊,同時讓消費者輕易搜尋詳細資料,以便善 用來自 3,000 間商戶、480 張香港信用卡及扣賬卡,合共超過 6,000 項優惠。消費者透過 krip HK 手機應用程式,可隨時隨地發掘到附近商戶的實時優惠,涵蓋餐飲、時尚和配飾、美容和保健、 娛樂和生活品味、居家生活,旅遊以及醫療保健七大類別。
krip HK 應用程式供消費者免費使用。程式支援 iOS 及 Android 系統,現可於 iOS App Store 及 Google Play Store 下載。用戶可搜尋商戶類別、輸入商户或餐廳名稱,或瀏覽用户附近的店鋪, 盡情發掘各項優惠。用戶可免費註冊個人帳戶,點選他們所擁有信用卡的圖像,探索專屬他們所 擁有信用卡的優惠,篩去不適用的資訊,以獲取更簡易、快捷和個人化的體驗。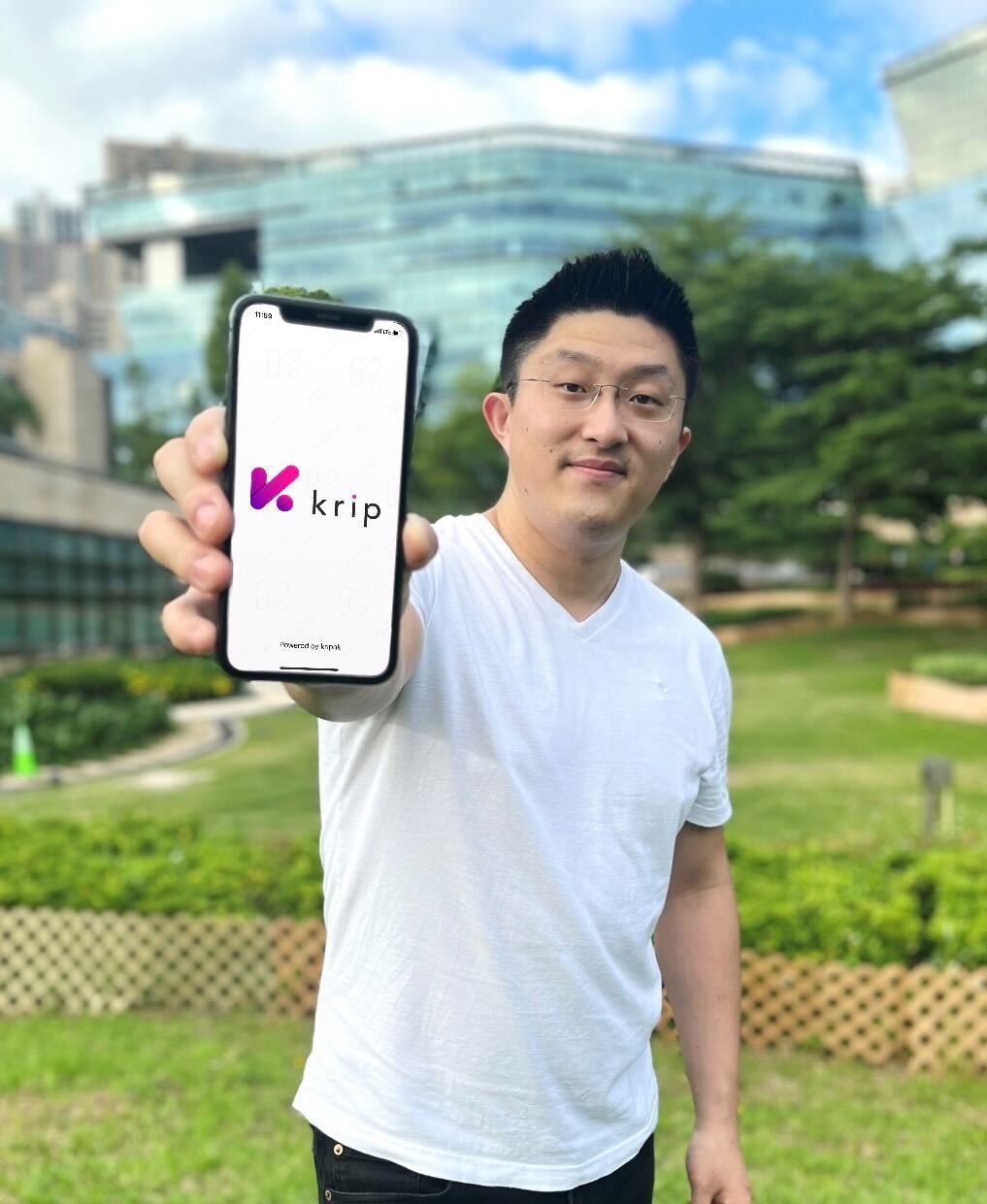 krip 創辦人王博 提及:「從個人經驗出發,不難發現人們經常錯過不同的優惠,更不知道錯過了 甚麼。消費者難以發現優惠資訊,意味著信用卡優惠推廣市場存在一大缺口。消費者若能從簡單 直接、綜合的平台輕易探索專屬於他們的優惠資訊,即可充份享受作為信用卡持卡人的權益。我 們致力協助港人全面發揮信用卡優惠的潛力,運用信用卡精明消費,不再單靠運氣才享受到應有 的優惠。」 krip 的使命是善用創新科技達至高資訊透明度,鼓勵市民更精明消費。krip 透過「開放 API」,促 進消費者、商戶和金融機構三者的資訊流通,意在革新信用卡優惠推廣市場。
krip 致力善用「開放 API」及人工智能科技,建立全面優惠資訊生態系統,發現、分析消費者的消費模式、偏好, 以及市場趨勢。 從商場、零售平台、訂位系統以至個人理財工具等,各類第三方合作夥伴可透過「開放 API」, 運用 krip 全面的優惠數據庫,提供數千項優質、個人化的優惠予其用戶。商戶可以更了解消費者 的需求,提供更個人化的優惠,而金融機構亦可制定更有效的市場推廣策略,同時提升信用卡使 用量和客戶忠誠度 。
數碼港創業家總監蘇雅麗表示︰「金融科技已經融入我們的日常生活,帶來的好處亦可以讓大眾 即時享受得到。數碼港作為香港主要初創培育機構,以及全港最大的金融科技社群,很高興見到 我們的培育初創 krip,成功推出這個嶄新的個人化平台,一方面讓消費者更精明消費,同時亦在 疫情回穩,零售和餐飲市道逐步復甦的時候,進一步刺激市民的消費意欲,振興經濟。熱烈恭賀 krip 的團隊成功推出這個平台。」