There are 3 important financial habits that everyone should follow:
Save regularly
Spend wisely
Spend smartly
Saving regularly is straightforward. All it takes is discipline and self-control to set aside a healthy amount every month before spending on anything else. That may not be so easy to actually do, but straightforward nonetheless.
Spending wisely is a matter of knowing what truly matters to you – to only spend on what will be worth your hard-earned money. It also means doing your research on the products you want, and on the brands behind them.
But how do you spend smartly to ensure you're getting the most out of every purchase?
Well, that is what a centralized credit card deals platform can do for you.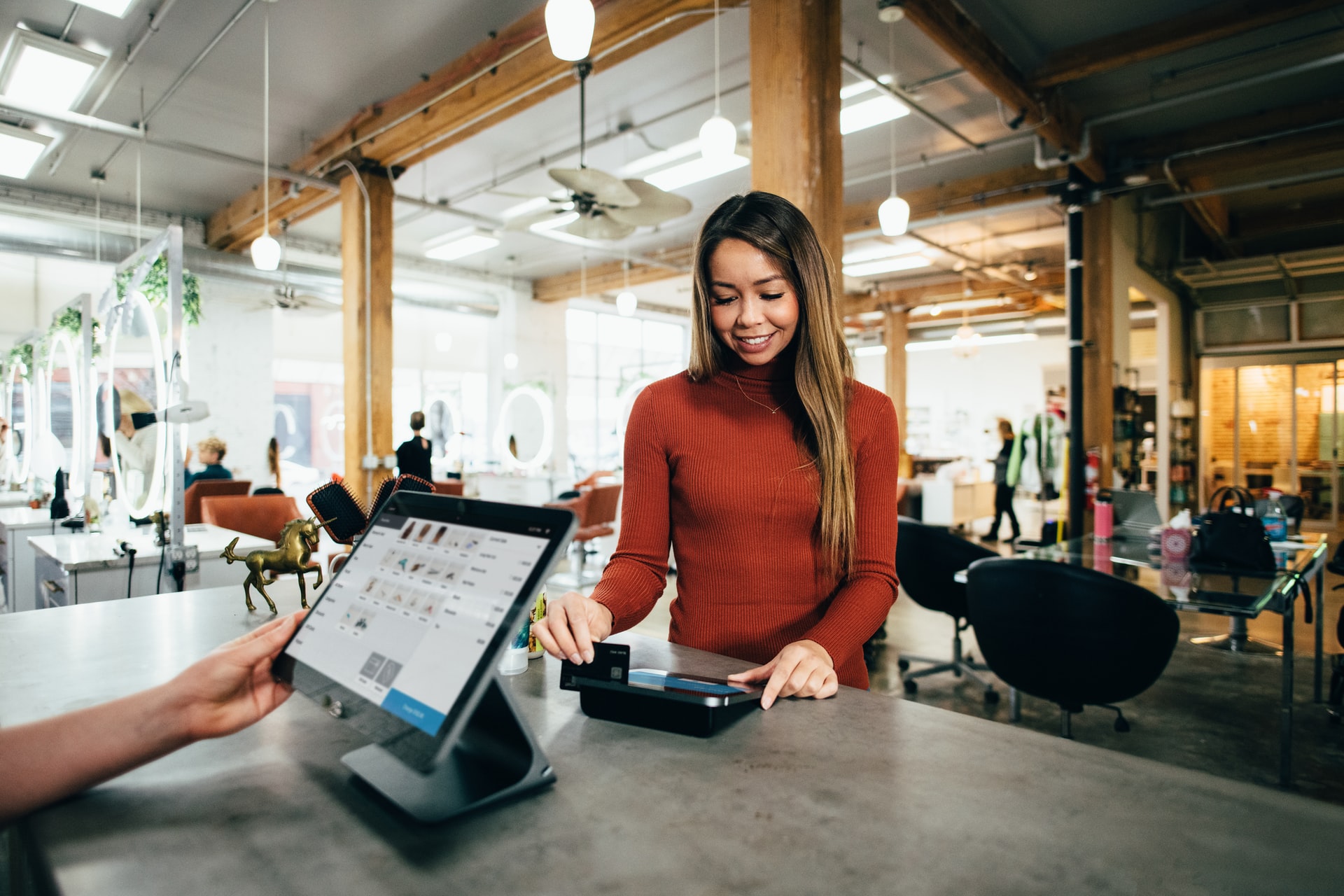 The thing is, if you look around, credit card deals are everywhere in Hong Kong (by our books, around 6,000+). From bars to burgers to baby products, from Sai Ying Pun all the way to Sai Kung.
The problem is that deals that are relevant to you are often hard to find when you actually need them, buried under layers of text pages, newsletters, terms, and conditions. Especially when you have multiple credit cards to keep track of, what often happens is you either miss out on a lot of deals out there, or only get told a deal exists as you are paying, pretty much leaving it to luck at this point.
The reality is, we all know that credit card deals exist. It just takes too much effort to hunt them all down and keep track of every single one. This is where a centralised credit card deals platform comes in handy – to make sure we don't leave the deals we deserve up to chance. But showing is much better than telling, so let's dive right in.
---
STEP 1: Select your cards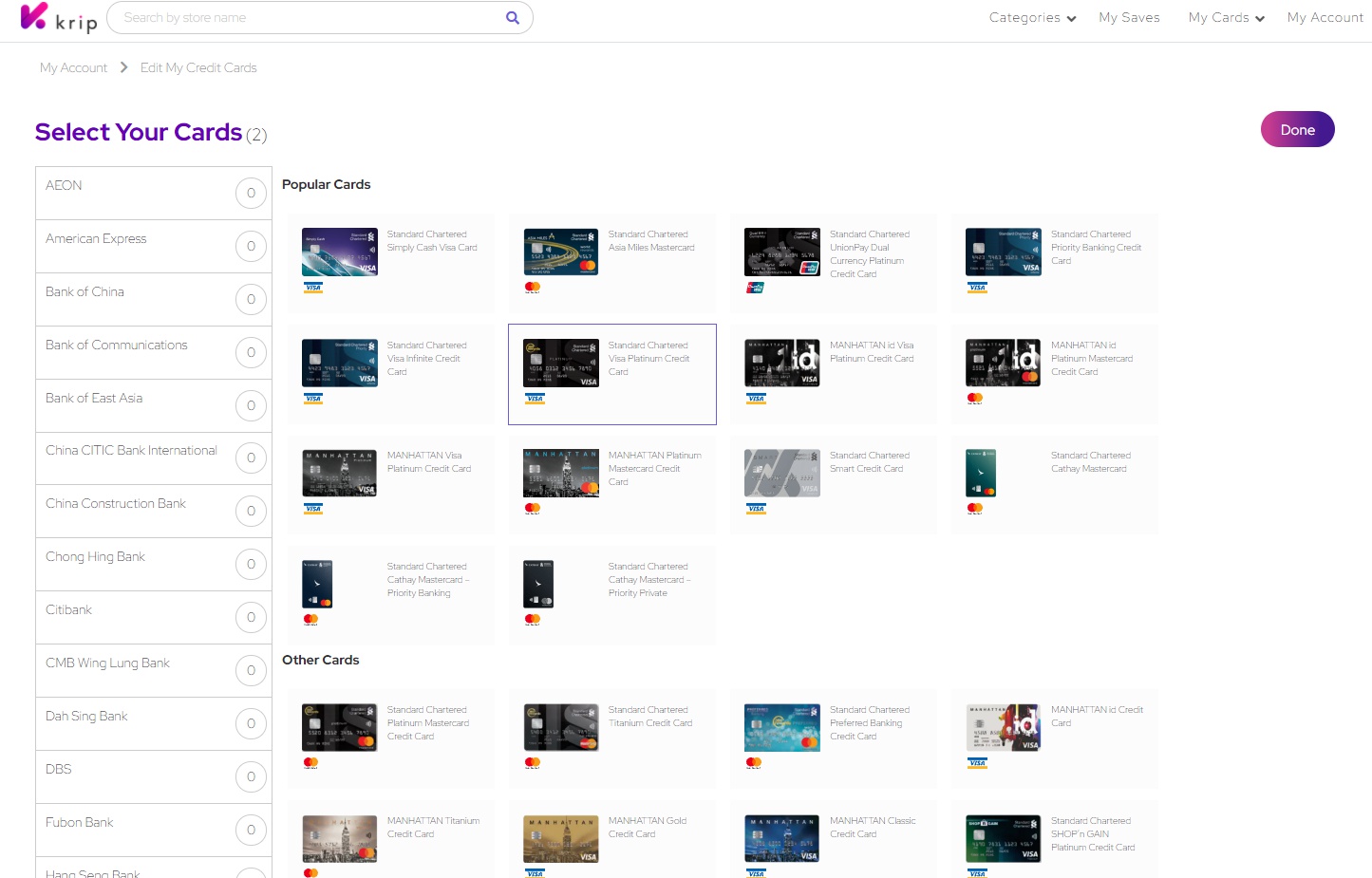 Like we mentioned, there are over 6,000 deals out there, so where do you even start? Find deals that are relevant to your cards of course. Just head to the top right of the page, click on "My Cards", and start adding the ones you have. Straightforward enough, but especially handy when you have cards from multiple banks to keep track of.
What's more, no credit card details are needed. Simply select the type of cards you own, and you're all set. All credit cards from all major banks in Hong Kong are available for selection, but it does require you to sign-up for an account. If you do not want to sign-up yet, simply skip straight to the next step.
---
STEP 2: Filter by product categories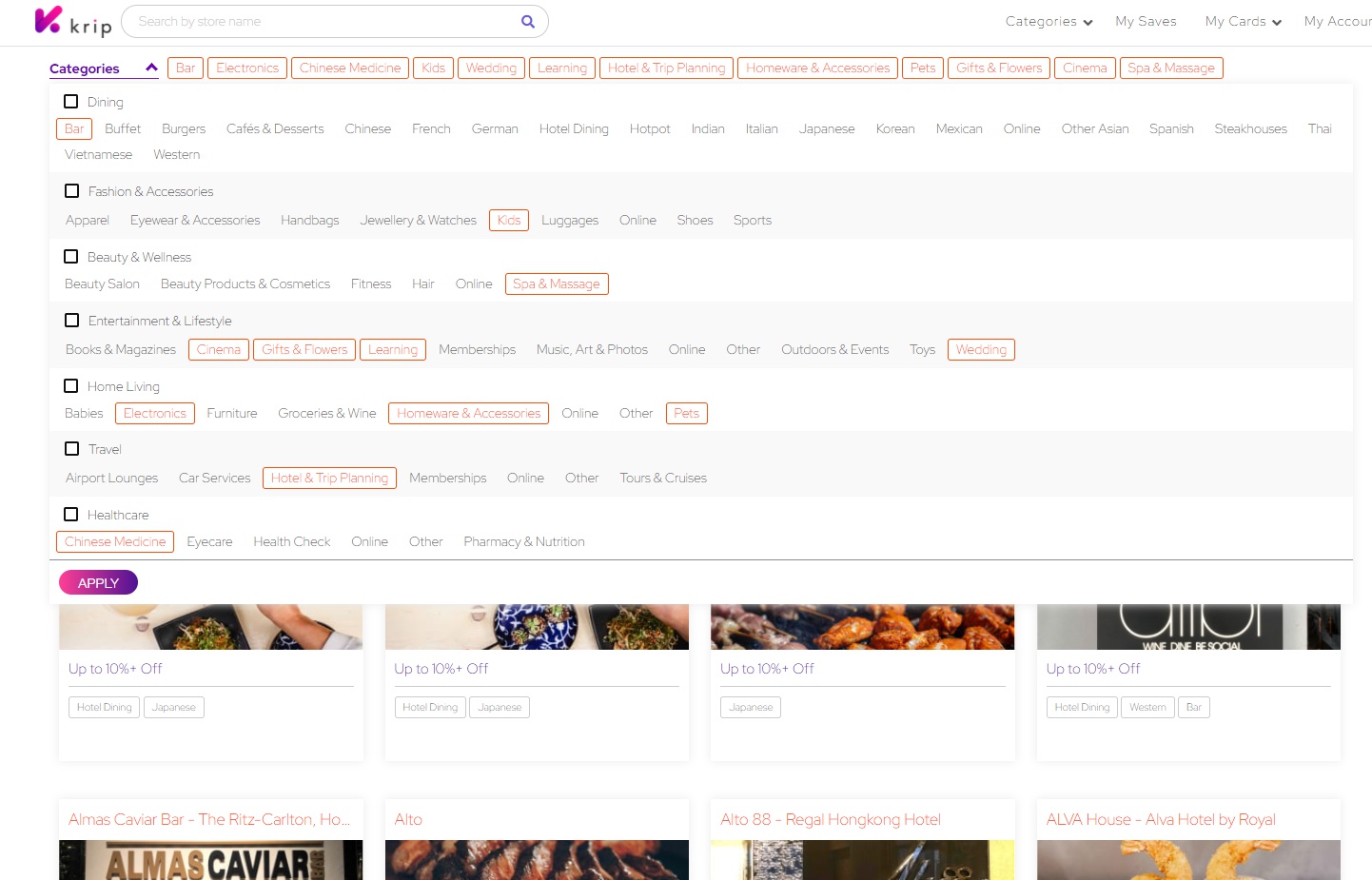 7 main categories, each with extensive sub-categories to find exactly what you're looking for. I consider this section to be the most fun because apart from narrowing down relevant deals, it also urges me to explore categories I normally do not pay much attention to. Who would have thought Chinese pharmacies also offer credit card deals?
---
STEP 3: Sort by location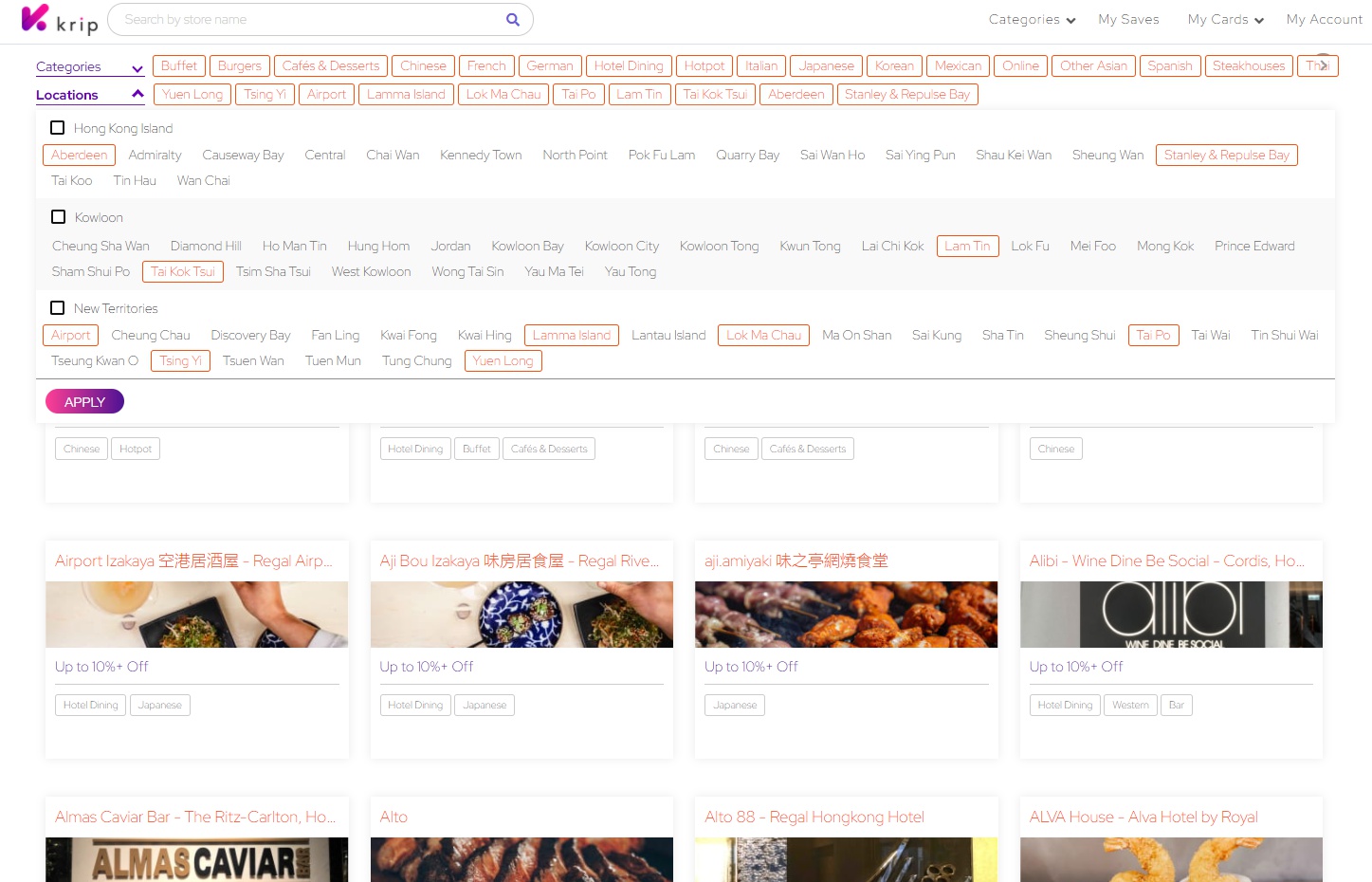 All 61 districts in Hong Kong at a glance. With deals available all throughout the city, it's always a good idea to make sure the ones you want are available in areas you frequent. Conversely it is also a chance to check out all the possible deals you can find in more remote locations you may be heading to.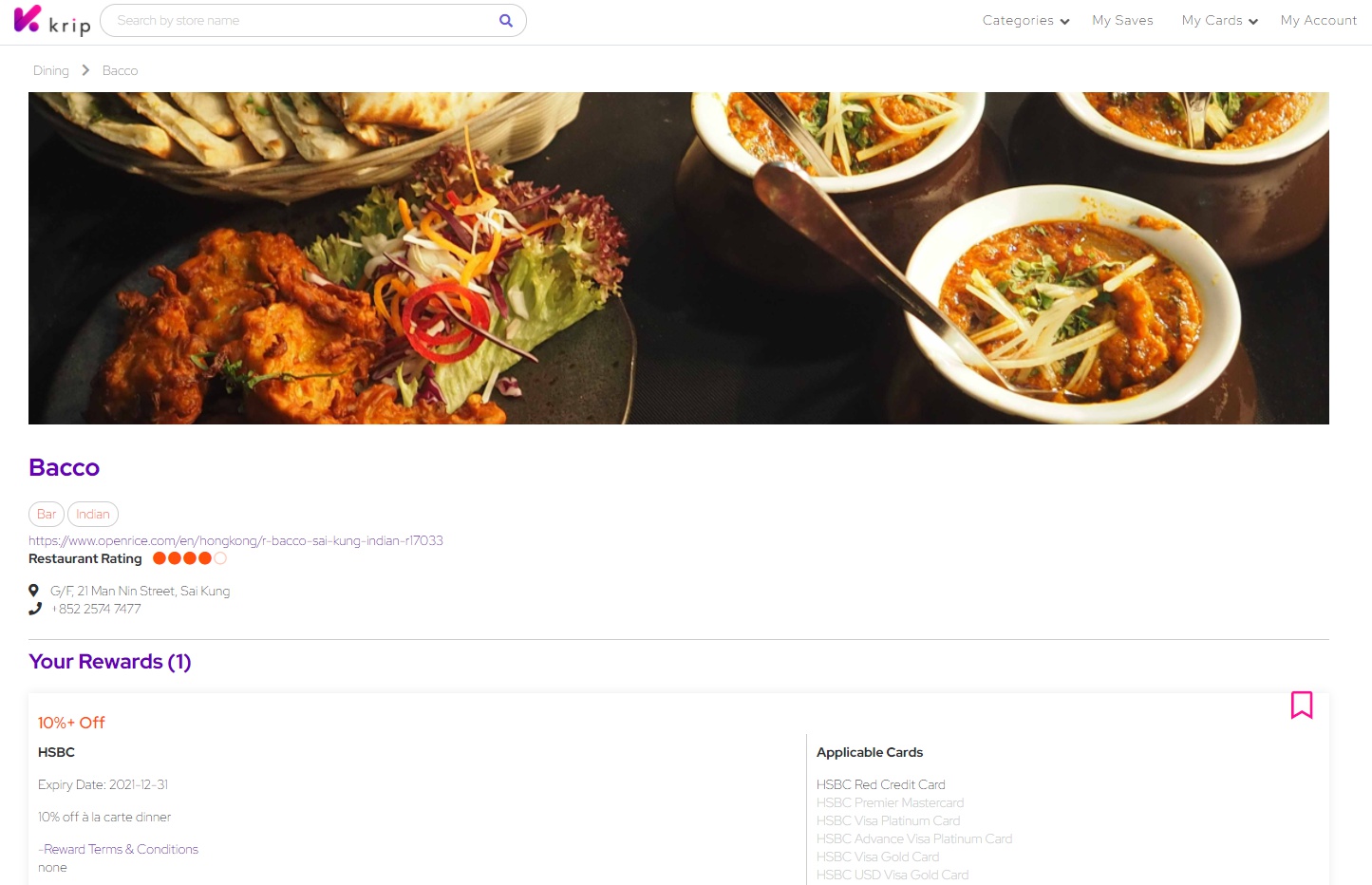 Indian food and bar discount in Sai Kung anyone?
---
STEP 4: Save your deals
Having found all these useful and interesting deals, it would be wise to save them for future use, though once again, it does require you to sign-up. Of course you can save them in other ways, but take care to note down the expiry dates of individual deals as well.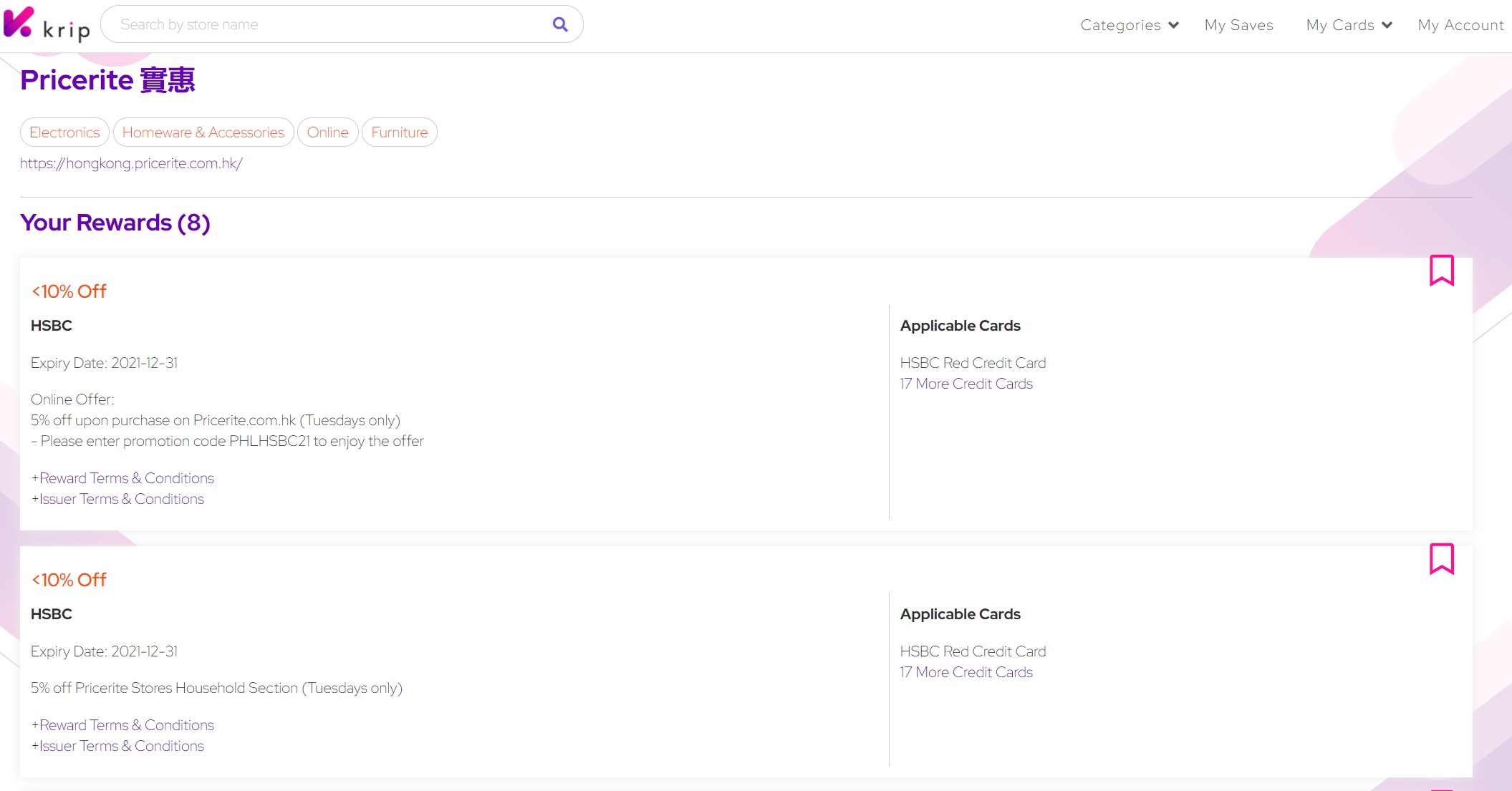 Note that sometimes deals may not apply to specific dates such as the week around Christmas, even if the listed expiry date is the 31st of December. Or in the case of Pricerite above, deals only apply on Tuesdays. Double check to be sure.
---
Empowering You to Spend Smarter Everyday
Imagine being able to choose places to dine at any given moment based on which restaurants offer deals that are actually relevant to you and the credit cards you own.
krip was created to help you take full advantage of what your cards have to offer, because we believe that when the right deals reach the right people, everybody benefits.
Sign up now to start using krip's full web features, and get notified the moment our mobile app launches!