Located on the 16th floor of Chong Hing Square in the heart of Mong Kok, Supreme Restaurant features chicken pot based on an authentic Chongqing recipe. With unlimited dishes and free-flow drinks, it is the perfect place to go for a satisfying happy hour or post-karaoke meal with friends. 
Supreme x krip HK Limited-Time Offer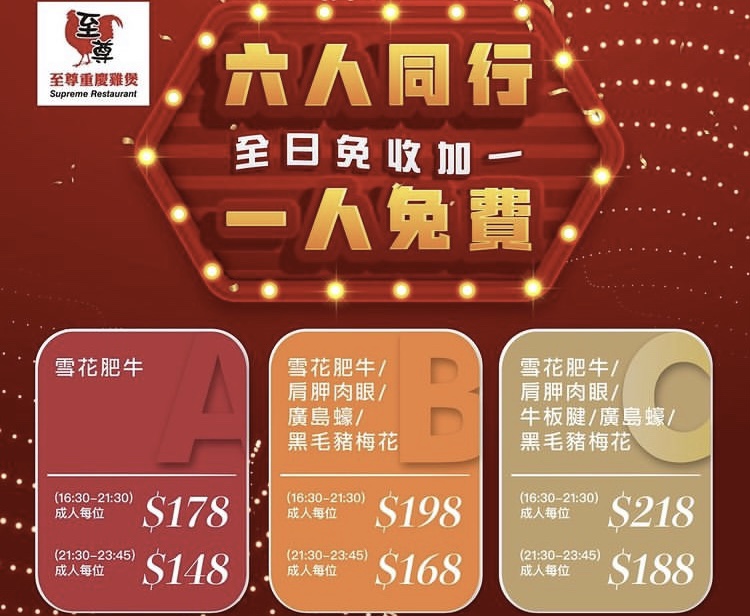 Supreme Restaurant is offering mouth-watering discounts to celebrate its 10th anniversary, including Buy-5-get-1-free meal set and 10% service charge waiver. If you can't imagine a hotpot meal without refreshing beer to cool things down, unlimited 1664 Blanc is even offered on tap at no additional cost!
Best of all, krip and Supreme Restaurant have partnered to offer exclusive credit card deals for you. Just make sure to spend using any HSBC card and enjoy a complimentary meal upgrade:
How it works:
After downloading krip HK App and showing it to restaurant staff, you will be eligible for a free upgrade to Hot Pot Set C upon purchase of Set B
Expiry: 31 July 2022 (Applicable to all HSBC cards)
$168 Signature All-You-Can-Eat Chicken Pot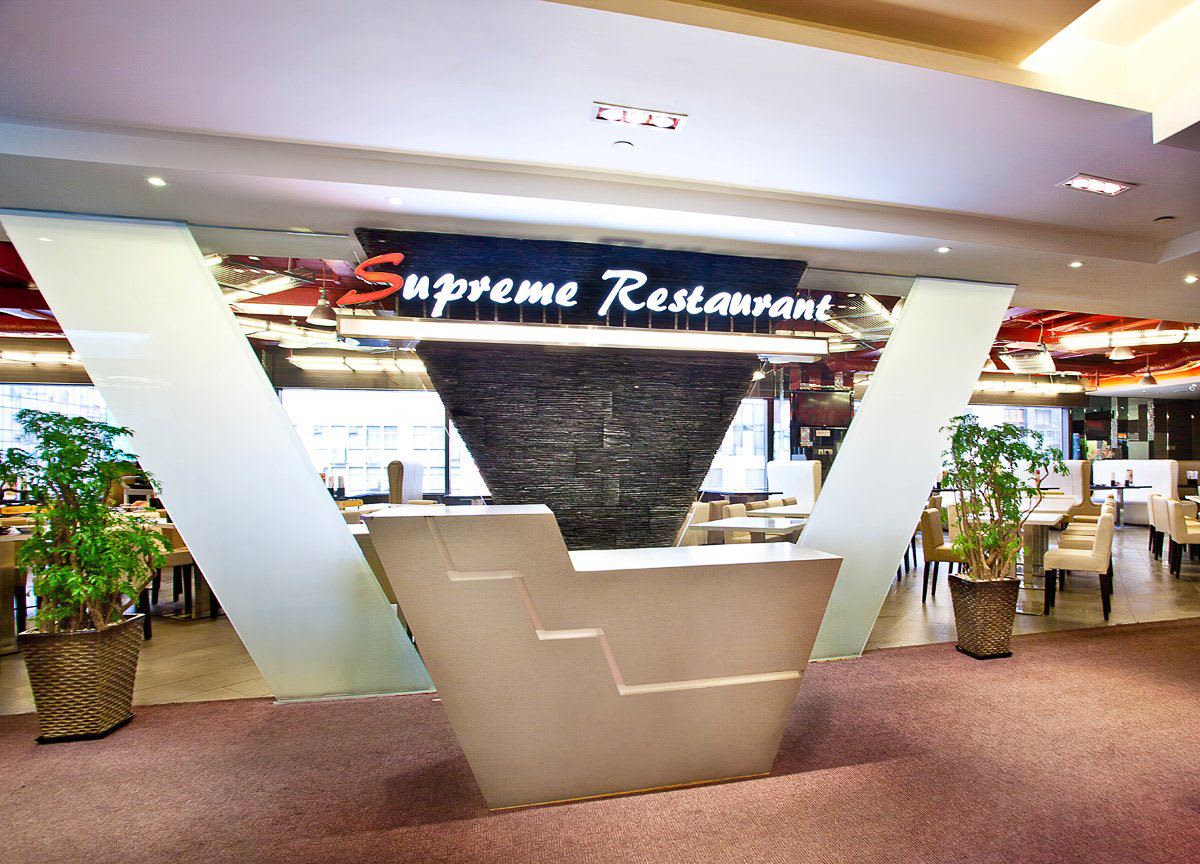 The restaurant itself offers a wide and spacious area with plenty of seating – perfect for a group dinner and happy hour after a long day's work.
As the highlight of the restaurant, the chicken pot starter dish offers different levels of spiciness, but the non-spicy option is also available for those with milder preferences. Whichever spice level you choose, you're sure to be greeted with an explosion of flavour thanks to their special sauce in addition to the perfect juiciness and tenderness of each piece of chicken.
Once the chicken is finished, pour in the soup base, mix with the leftover chicken sauce, turn up the heat, and now you are ready for the second stage of your meal. Though slightly diluting the spiciness of the chicken pot, what you get in return is a new burst of flavour as the sauce enriches the chicken broth, resulting in an irresistible soup base that is perfect for the various staple hot pot foods on offer.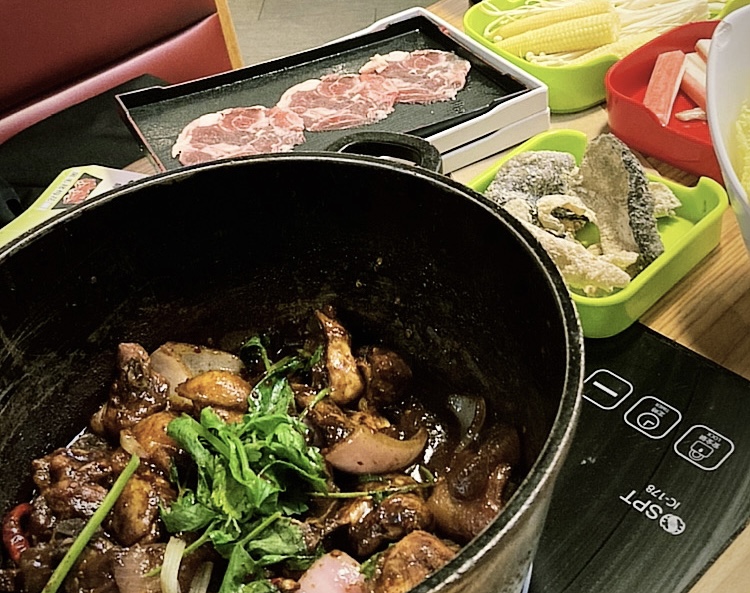 Ordering with a mobile phone, there were dozens of hot pot items to choose from. Staple ingredients include American beef slices, Iberico pork belly, fish maw, Hiroshima oyster, dumplings, side dishes and various seafoods. There are even a myriad of after-dinner desserts like mochi ice-cream and ice-cream bars, as well as beers and all kinds of beverages to cool yourself down at the end of your meal.
Three Meal Sets with Incredible Value
Mixing the chicken pieces with their special spicy sauce makes them much more flavourful and juicier than many other restaurants with similar offerings. The hotpot broth fully absorbs the essence of the sauce, transforming the chicken pot into an entirely different hotpot dish for the 2nd stage of your experience.
For foodies who have high standards for chicken and soup base, this is the perfect eatery you definitely should try out. Can't get enough of the chicken? Enjoy unlimited chicken slices for just $10! While the price ranges from $150 to $200 only, the restaurant offers different meal sets for you to choose from:
Set A offers unlimited American beef slices:
Dining hours: 4:30pm – 9:30pm ($178 per person)
Dining hours: 9:30pm – 11:45pm ($148 per person)
Set B offers American beef slices, chuck eye roll, Hiroshima oyster and Iberico pork belly:
Dining hours: 4:30pm – 9:30pm ($198 per person)
Dining hours: 9:30pm – 11:45pm ($168 per person)
Set C offers American beef slices, chuck eye roll, blade steak, Hiroshima oyster and Iberico pork belly:
Dining hours: 4:30pm – 9:30pm ($218 per person)
Dining hours: 9:30pm – 11:45pm ($188 per person)
For special occasions like birthdays and anniversaries, why not explore the high-end ingredients of Set C? The good news is, you can upgrade the meal set for free just by downloading krip App HK!
Address: 16/F, Chong Hing Square, 593-601 Nathan Road, Mong Kok
Opening hours: Mon-Sun 12:00 – 21:30
Telephone: 21482628
Facebook page: https://www.facebook.com/ChickenPot